This Unbearable Boredom of Being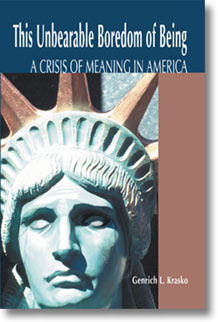 This book is a precious gift to the reader. The author guides the reader in a truly universalist spirit that allows us, in his company, to view the present state of our culture both in depth as well as in a critical manner. I myself, as a European, could of course learn a lot, gaining new information and correcting many previous misinterpretations. Small wonder: the author is a well-recognized scientist who migrated from one world and landed in another one. Hence he could accumulate a wealth of experience, and present it in the light of his personal wisdom.
The late Dr. Viktor Frankl, one of the greatest minds of the 20th century and the author of the internationally bestselling book, Man's Search for Meaning, wrote over 50 years ago:
"Ever more people today have the means to live, but no meaning to live for."
The gist of this book, This Unbearable Boredom of Being, is that the most burning problems of today's America: crime, drugs, greed, ugly gender polarization, disintegration of family, decay in morals, racism, and so on, are the direct consequences of a crisis of meaning that has engulfed America. The author, Genrich Krasko, an acclaimed scientist and Viktor Frankl's follower, analyzes the causes of this existential crisis.
Genrich Krasko identifies one powerful factor that plays an enormous and decisive role in exacerbating our crisis and virtually all our problems: the degradation of our educational system. He also discusses the roots of this degradation and a future, true educational reform. However, what Genrich Krasko suggests is almost diametrically opposed to the measures that are being widely discussed (and implemented) today.
This Unbearable Boredom of Being is an eye opener. It will also help you to envisage a new America, healthy and flourishing, a light unto the nations.